Bielomatik sheet cutting and packaging line, model P32-02 S.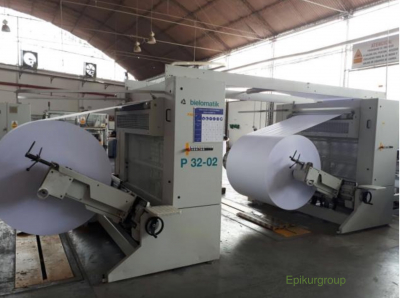 Print this page
№ 01401
Year of manufacture: 2012. Sheet format A4. Excellent condition.
Features
Photos
Make a request
Product - Sheets of A4 format (297 x 305 mm).
Weight of recyclable paper, g/m² (Min.-40. Max.-300)
The main components of the equipment.
2 rolls (Roll diameter: Min. 120 mm - Max. 1524 mm. Roll width: Min. 290 mm - Max. 1205 mm.);
Paper feeding system from both rolls;
System of control and adjustment of the edge of the canvas;
Paper cutting system in the center;
Paper pulling system for both rolls;
System of trimming and separation of waste;
Paper sticking detector;
The knife system includes a Synchro cut-off device (cutting paper into A4 format sheets), upper and lower rotary knives (Number of cuts 1683 per minute);
The system of forming stacks of sheets with their subsequent transportation to packaging (Number of sheets, Min. -10 pcs. Max. -500 pcs. Stack height Min. -1 mm Max. -70 mm);

Finished product packaging system, including a wrapping machine with a wrapping paper preparation system.
Image Gallery