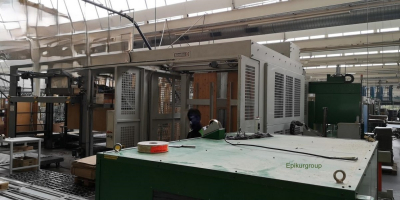 Print this page
No. 0284. Year of manufacture: 1983. Repairs and Modernizations.
Features
Photos
Make a request
Technical characteristics:
Max. sheet size: 2400 x 920 mm.;
Min. sheet size: 500 x 255 mm.;
Speed: 18000 sheets/hour.
As part of:
Submission section;

4 Printing sections;

Automatic slotter;

Section of rotary die-cutting with the SERRAPID system (Quick replacement of punching forms);

Folding and gluing section with VALCO system;

Counter - ejector;
Good condition: constantly serviced (Spare parts).