Signode automatic binding press, type GCU 3-24 MHC ID.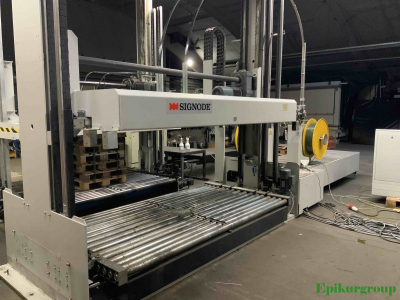 Print this page
№ 1016
Year of manufacture: 2009. With modular emergency strapping systems and intelligent tape devices.
Features
Photos
Make a request
Complete set:
Press;
2 intelligent tape feeding systems;
3 retractable rods for passing the tape under the pallets;
Roller conveyor with a built-in turning and lifting device;
Control panel with Siemens S7-314 SPS and electrical controls.
Technical characteristics:
1. Press part:
Maximum height of passage: 2550 mm;

Minimum passage height: 500 mm;

Length: 1550 mm;

Width: 2810 mm
Clamping force: 0-25,000 Newton adjustable.
2. Weight and dimensions of the pallet:
Loading width: min.: 500 mm; max.: 2800 mm

;

Pallet width: min.: 800 mm; max.: 2340 mm

;

Pallet length: min.: 800 mm; max.: 1,473 mm;
Loading height: incl. pallet: 500 mm min.; Max. 2450 mm (without pressing);
Loading weight: max. 1500 kg.
3. Intelligent tape feeding systems:
Coil dimensions: inner diameter 406 mm, outer diameter 600 mm. Width 150 mm. Belt conveyor/ retraction speed: 3 m/sec.;
Belt tension: can be adjusted up to 800 Newtons.;
Binding material: Tenax Polyester 9,2 mm x 0,52 mm; Tensile strength: 2000 Newtons.
4. Automatic binding programs (standard) + 10 programs for binding between tapes.
5. Electrical connection: operating voltage : 4 kVA, 400 V, 3 Phase (N&E), 50 Hz
Overall dimensions: Width: 3.580 mm; Height: 3870 mm
Download attachments: